About
Homeschooling is gaining the momentum right now as there are more and more parents are searching for a better alternatives in education for their children. If you are new to homeschooling or expert homeschooler, you will find great and useful information on the subject: I am homeschooling mom of 2 kids and have been homeschooling for a few years, I am sharing what I have learned with others so they can make right choice for their families to see if homeschooling is right for you and any questions you may have.  You can ask question in comments or sent via contact form.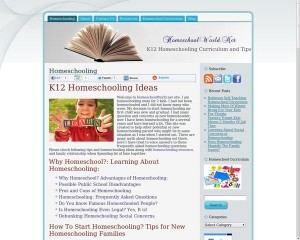 Image Source: Homeschool World
This homeschooling.c3park.com site is born out of passion, as when I started in homeshcooling, I was overwhelm and confused with so many choices and I had many misconception about what homeschooling was. I am glad to say in 4 years I have learned a lot and feel confident about my choice of homeschooling my kids. I want to provide help to others who might be in same situation as I was, so it makes it much easier. Only you as a parent can make a choice if homeschooling works for you or not. I am trying to make finding answers easier for others so that you can make right choice for you with right information.
Homeschooling Basics
Legal stuff
US state laws for Home schoolers
International homeschooling
Is home schooling right for you?
What about socialization?
Curriculum to choose
Learning styles
Education and teaching styles
Grade goals by age and Grade
Projects
Printables
Support groups
Resources
Along with homeschooling, this website also talks about parenting issues that goes hand in hand with homeschooling such as;
Finding zen balance with kids
Eating well and Healthy
Pregnancy and Kids related issues and subjects
How to make money from home for homeschooling parent
Other home keeping and life issues
College bound kids,
Grandparents and relatives
Hope you find the information you are looking for here. We are constantly updating and adding new content to the site. If you have any questions, please feel free to contact us using contact form.
If you new, get started here..
There is lot of material here, so take it easy and go slow. You do not have to read it all at once. Slow and choose what interest you. Bookmark this site and come again to read it slowly.
If you are new and getting started I have put many basic information from why to homeschool, how to homeschool and what type of education curriculum to choose here: K12 Curriculum and Homeschooling Tips
Homeschooling and parenting resource: From legality in US and international, free printables, frequently asked questions, how to get student id when you're homeschooling here: Homeschool Resource
If you are ever curious what curriculum many homeschooler like, here I have done extra research and shown you full detailed reviews so you know what you are buying before you spend money: Check out Homeschool Curriculum Reviews
If you are curious about homeschool records and how to structure and manage homeschooling at home click here. Please click on article on homeschooling record keeping.
If you want to read about family, kids, pregnancy health related articles click on family and relationship articles. Click on continue to read to read full article.
If you are homeschooling that means one parent must stay home or work part time, how do you manage cost of homeschooling, and get enough money? Click here to read family finance related articles. Click on continue to read to read full article.
Homeschooling is all about family: togetherness, love, marriage, parenting, pregnancy, siblings and trying to find balance and little zen of it all. I know how exhausted homeschooling parent can feel, here are some parenting and marriage relationship articles for you. Again, please click on continue to read to read full article fully.
I know no matter how hard I try, my kids like toys, kids dvds and more. Instead of fighting with them, now I compromise by buying educational toys that do the double duty of acting as toys that kids like and learning part which I like. Here are a few educational toys suggestions. Please click on "continue to read" to read full article.
Here are some articles on children tantrum, teen issues and problem solving articles: Here
Enjoy and Happy Parenting and Homeschooling
If you like our article, please like us on on top of the page to Facebok or twitter, tell to your friends. Thank you. You can find Homeschool Curriculum Reviews, Pros and Cons of Homeschooling, Homeschool Books and Other Homeschooling Tips and FAQs